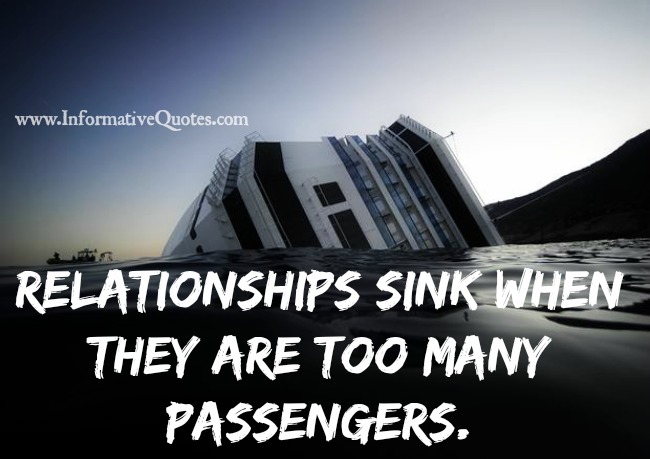 Relationships with only two "passengers" never sink.
If there are so many passengers in the relationship sure it will sank specially if they can't "balance" it.
Relationships sink too when there is not enough balance, communication, openness, caring & trust. 
Whether male or female, whoever invites outsiders into the primary business of the relationship will destroy it. ~ Ezra Rodgers 
Two people that love each other should protect their relationship. Listening to advice & opinion of others is important, but they must make decisions of their own, whether they're right or wrong. Relationships should not be controlled by friends or family. It's not healthy. ~ Iris Sanchez 
In a relationship, differences must be resolved by two people who should be willing to save it. They are the ones who know what's wrong in the relationship, and no one else but them. it's about the lovers and not the others. So never allow others to intervene in your own relationship. ~ Judith Mamaril
Jealousy is one of the strongest force that exist. I have negative experience both in work situations and in other relationships because of jealous female colleagues and friends. ~ Jasmine Dance
Only insignificant people should be cut from a couple's relationship, especially jealous women friends. They try to create problems where there are none. That's why eliminate the insignificant people. Family is important to relationships, but every case is individual. Only friends that support your relationship should be a part. Others tend to be jealous trouble makers.
There were too many people who didn't want my husband and me together and happy and did everything they could to rip us apart and they did. I think they were just jealous of our special kind of love and the happiness we shared because they didn't have it in their lives so they did everything in their power to rip us in two. ~ Mary Inman
Got Something to Say! Comment below :-
comments