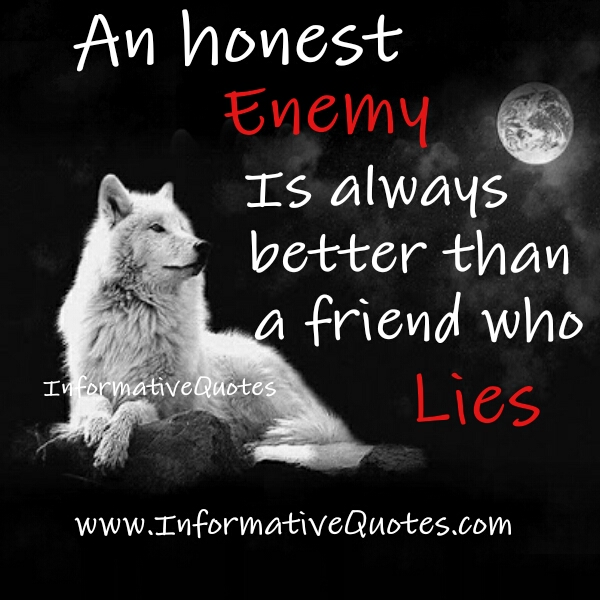 A wise enemy is better than a foolish friend.
Keep your enemy closer than your friends. Not if a friend lies to you in the first place than that friend was never your friend in the first place. Same with broken promises. Broken promises are no different than lies. ~ David Kohl 
An enemy is an enemy but I actually have a bit of respect for my enemies who are honesty I just don't trust them or value their opinion, but I appreciate the honesty even if I don't want to hear it. Some friends to tend to say white lies here and there just to avoid hurting your feelings but a true friend will tell it like it is and know they are saying is coming from the heart and not intentionally trying to hurt you. There are many ways to be honest, but I would rather have an honest enemy then a friend who tells me lies. ~ Nicole Cooley 
Unfortunately a lot of people prefer liars to honest people because honesty hurts and lies make them feel better about themselves. ~ Nisrine Aad
A friend is someone who will say what needs to be said no matter if it's uncomfortable. You will know they don't mean it to hurt you, because they are your friend. They mean to help.
If you don't lie, then you have to think and try to remember when confronted.
Got Something to Say! Comment below :-
comments